Gdy nagle, tuż przed progiem dostajesz SMSa od ukochanej, że właśnie zdała prawo jazdy albo ważny egzamin lub dostała podwyżkę nagle pojawia się potrzeba wina, które pozwoli odpowiednio uczcić ten radosny moment. I gdy nie chce się jeździć po mieście a w lodówce pustki zawsze z pomocą może przyjść Żabka! Tam od jakiegoś czasu dostać można prawdziwego szampana za jakieś 69,99! Tak, tak!
To także opcja dla wszystkich, którzy w pobliżu nie mają sklepów specjalistycznych – czyli dla ogromnej większości Polaków.
A co to za butelka? To Champagne de Linieres.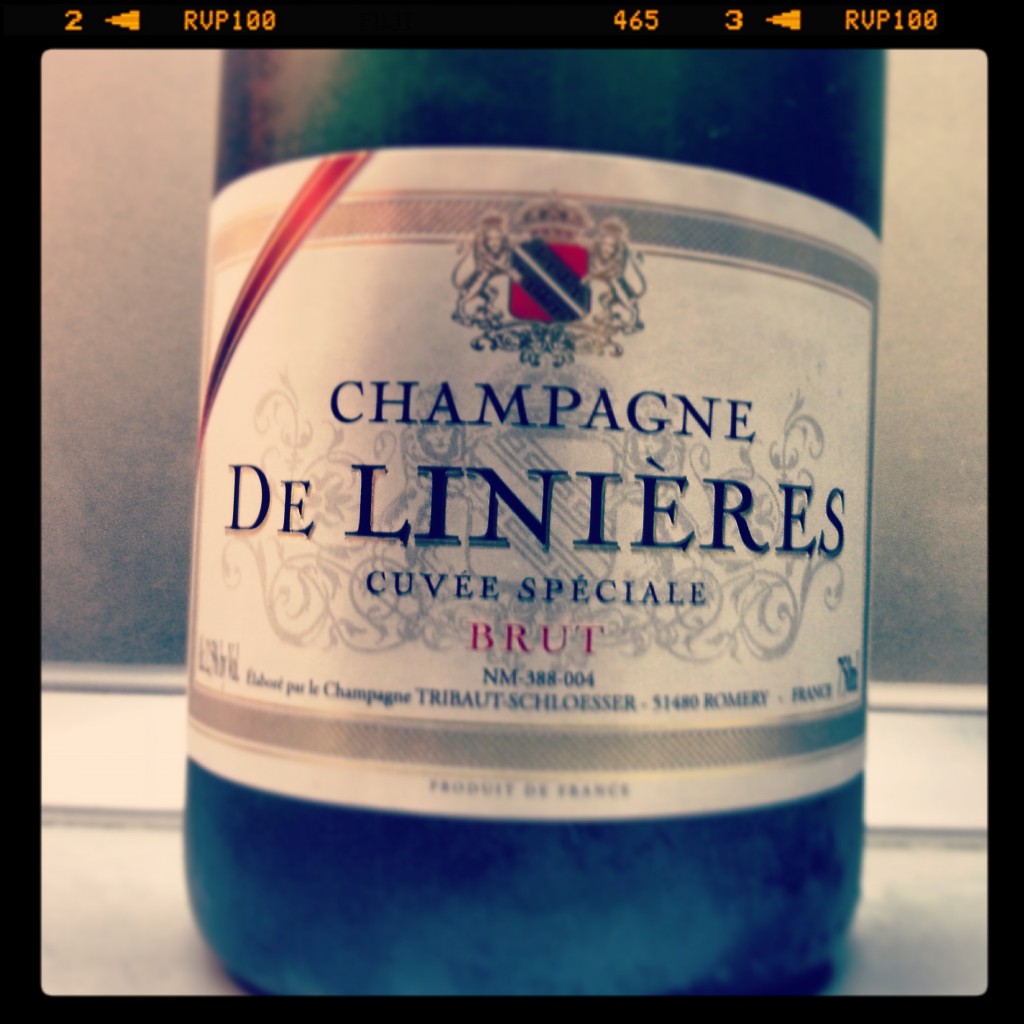 Wino generalnie w sieci zbiera pozytywne recenzje. Nawet na Winicjatywie uniknęło chłosty. RedNacz pisze o nim:
Z degustowanych win dobre wrażenie zrobił Champagne De Linières, świeży, jabłkowy, przyjemnie półwytrawny, dostępny w bardzo konkurencyjnej cenie 69,99 zł – wart uwagi, gdy bez wydawania majątku chcemy mieć słowo "Champagne" na etykiecie.
Wino na pewno warte uwagi. Szampan w przystępnej cenie nie trafia się codziennie! Kolor ma delikatnie żółtawy, bardzo ciekawy i złożony nos gdzie na początku aromaty sera pleśniowego, orzechów, pieczonego chleba, które potem zyskują "jabłkowości" dzięki czemu po chwili pachnie nieco jak cydr. Oczywiście znacznie subtelniej i w sumie bardzo przyjemnie.
A w smaku zgrane, orzeźwiające i przyjemne, z nieco dominującą kwasowością, która zdaje się być silniejsza niż reszta wina. W finiszu orzechowo jabłkowe niuanse i miły wieczór gwarantowany.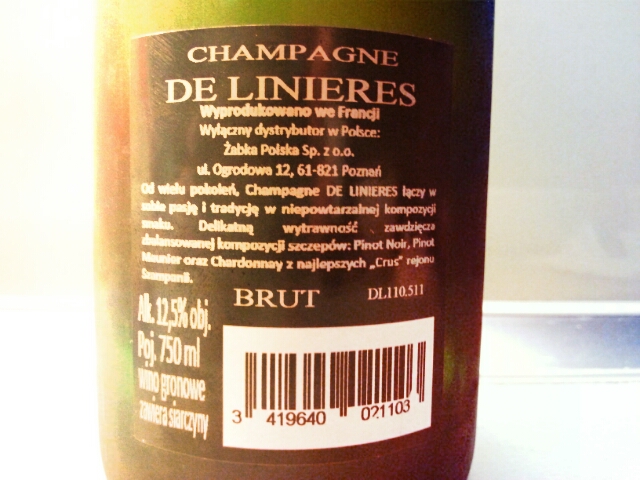 Przyznam, że to jeden z ciekawszych budżetowych szampanów – pachnie bardzo ładnie, smakuje w porządku – można brać jak jest okazja i chodzić się nie chce 😀
Życzę byście kupowali go codziennie w Żabce razem z bułeczkami i serkiem na śniadanie 😀